Scientists create cancer-killing treatment (nanobots) they hope will annihilate most aggressive brain tumors (glioblastomas)
---
Hurricane Lee live updates: Storm downgraded to post-tropical cyclone
---
Ohio priest urges voters to reject 'demonic' pro-abortion amendment, send it 'back to hell'
---
NASA says UFOs are NOT aliens: Space agency's bombshell first study into flying phenomena finds there's 'no reason to conclude existing reports have an extraterrestrial source' Here's wishing that CDC and FDA had the same integrity of NASA
---
ALL U.S. phones to receive nationwide emergency alert On October 4th at 2:20 PM Eastern Time, FEMA and the FCC will conduct a nationwide emergency alert test, where all consumer cellphones will receive a message stating: "THIS IS A TEST of the National Wireless Emergency Alert System. NO ACTION IS NEEDED." The test aims to ensure that all systems are prepared in case a national emergency message needs to be sent out to the public.
---
Some patients are still conscious an HOUR after their hearts stop, according to major study into near-death experiences
---
Catholic ethicists on California's rise in assisted suicide
Canadian woman seeking help with suicidal thoughts offered plan to die
---
Gardener in England grows nearly 20-pound onion
---
Maui wildfire toll drops to 97 dead and 31 missing.
---
House cats v. snakes whose fastest? Cat reflexes
---
$20K to change a light bulb. Must be done twice a year
---
Seattle's archbishop withdraws request that all pastors submit letters of resignation, as part of a parish consolidation process across the archdiocese
---
Collapse of 2 dams in Libya floods leads to probe
---
The Significance of Pope Francis' Leadership for the Church by expert Catholic professor and theologian. He has taught philosophy and theology in Catholic universities and seminaries. He has published widely on theological questions, in journals that include New Blackfriars, Nova et Vetera, Recherches de Théologie et Philosophie Médiévales, and The Thomist.
The author's last line: The significance of Pope Francis is that Catholic priests and bishops as a body have betrayed Our Lord and the Catholic faithful, and that they must repent, make atonement for their sins, and work to undo the harm they have done. Thank you, FR
---
---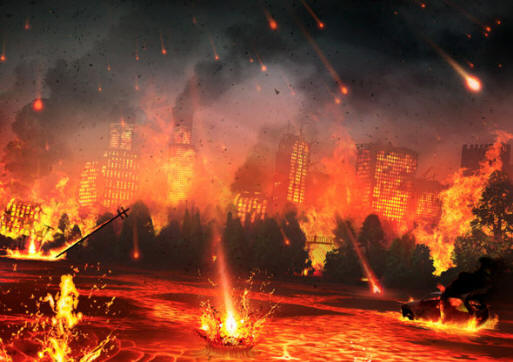 Experts Confirm Genesis 19, Biblical City Destroyed by Explosion 1,000 Times Larger Than Atomic Bomb
Past Headlines
How Devotion to Our Lady of Sorrows Changed My Life:
6 Ways I Experience Her Powerful Intercession
How to know guardian angels might be visiting you
Top Florida Surgeon Advises People Not to Get the New COVID Booster
Masks don't work against COVID-19
Pope Francis Meets Officials at Vatican to Discuss Possible Resignation of Bishop Joseph Strickland
The Miraculous Medal and an Unknown Story
---
The Cure of Ars said, "All the good works in the world are not equal to the Holy Sacrifice of the Mass because they are the works of men; but the Mass is the work of God. Martyrdom is nothing in comparison for it is but the sacrifice of man to God; but the Mass is the sacrifice of God for man."
Eternal God and Comforter, invigorate my studies and be a lamp to my path so that I may establish myself and others in thy holy faith. JDG
"May the light of the Holy Spirit come upon us all and reveal Him who is the Truth."
Invasion of the killer Asian hornets: UK Beekeeper's business is wiped out after foreign insects massacred thousands of his bees
---
CA To Remove Kids From Parents Who Oppose Disfiguring Them The California legislature passed a bill Friday that would threaten parents with losing custody of their children if they question their child's supposed desire to undergo disfiguring hormone regimens or surgeries to appear more like the opposite sex.
Detransitioner Sues Medical Professionals Who Gave Her A Double Mastectomy At 16
---
Association of American Physicians and Surgeons: Mask Mandates Ineffective Against Respiratory Viruses, Harmful, and Infringe on Informed Consent Rights The Association of American Physicians and Surgeons (AAPS) has released a statement challenging the effectiveness and ethicality of mask mandates for respiratory viruses, including COVID-19. The AAPS argues that not only are these mandates ineffective in stopping the spread of respiratory viruses, but they also pose potential health risks and infringe upon individuals' rights to informed medical consent.
---
Francis, Fatima, and Garabandal But—with the exception of sins against the environment and "sins" of rigidity—Francis seems to take a "Who-am-I-to-judge" attitude toward other sins, especially 'sins of the flesh'. ..... It seems more prudent to listen to the Mother of God than to put your trust in Christ's vicar, Francis
Pope Francis appoints Jesuit (Spadaro) who attacked Jesus as 'stymied and callous' in a blasphemous homily to prominent Vatican post: Under Secretary in the Vatican's Dicastery for Culture & Education.
---
Anti-Catholic, Sisters of Perpetual Indulgence, Apologize After Former 'Probationary' Member Arrested For Masturbating In Public
Calif. Long Beach-based priest charged with possessing over 600 child porn images
---
Ancient Romans Used Chickens to Predict Battle Outcomes
---
Significance of the Feast of Trumpets (Rosh Hashana = "head of the new year") for Christians, September 2023 Sundown 9/15 - 9/17
Matthew 24:36, "But of that day and hour no man knows, no, not the angels of heaven, but my Father only." The Feast of Trumpets is the only ambiguous date among the LORD's seven appointed feasts due to the necessity of having to sight the new moon to announce the feast. No one can know ahead of time who or when it will be sighted. So there is a high holy feast of the Lord that no one knows the date or the time.
Feast of the Trumpet is celebrated as a date of God's judgment when God sits down on the Mercy Seat ("between the Cherubim"-- Psalms 99) and opens the Book of Life to Judge nations. Many other apocalyptic events including God's judgment are a process, but the day of Christ's return is a single event in human history occurring on a single day. This feast is thought by Spirit-Digest to be the future date for the completion of purification and the return of Christ. Further, God sat down on the Mercy Seat on 9/11/01. Sins have gotten progressively much worse since then and His judgments are ongoing and increasingly severe. (10,000+ dead in Libya, 3,000+ dead in Morocco this week alone)