Trump Nominated for Nobel Peace Prize following Israel-UAE Peace Deal by Norwegan Lawmaker in Nation where Nobels were born Awards are handed out right before the election in Nov.
"I'm not a big Trump supporter," he told Fox. "The committee should look at the facts and judge him on the facts—not on the way he behaves sometimes. The people who have received the Peace Prize in recent years have done much less than Donald Trump. For example, Barack Obama did nothing."
We are unaware of any pope who received it.
Newt Gingrich: 'Very hard to deny' Trump earned Nobel Peace Prize
Arafat's widow rips Hamas, Palestinians and apologizes to the Emirati people for the desecration of their flag
How Trump is Carrying Out Biblical Prophesy without even Realizing it
Labor Day Win: CEOs Hire Americans Because Donald Trump Excludes Visa Workers
'He Must Be Re-Elected': Bin-Laden Niece is a Trump Supporter and 'American at heart. Says Trump is only president who can prevent another 9/11
---
---
The false hope of socialism: Why it can never succeed
---
Navy reverses decision on holding Catholic Masses at some bases due to priest shortage
---
The truth is here: Astronomers find NO technological signs of alien life
---
Joe Biden's former White House stenographer said the vice president's public speaking ability has deteriorated significantly since leaving office to the point where he's "not the same Joe Biden."
---
Piles of mail were dumped last week in two separate locations in Glendale, California — and the American Postal Workers Union says that its members were not involved.
---
France protests Israel's deportation of terrorist who planned to kill chief rabbi
---
Broke Teacher Returns Lost Backpack Containing $6,000 in Cash- 'People Have to Be Honest'
---
---
Furious Bishop pens open letter to faithful: "I am extremely shocked and I feel betrayed. I absolutely disagree with the prophecies..WW3, Warnings, Days of Darkness"





Countdown To The Kingdom Responds





Spirit-Digest Opines:


Bishop Lemay has posited these complaints before, so this is nothing new. What is quite salient is a strident angry tone. His text gives the impression

that

the rebuke issues from the consternation of the faithful calling/ emailing his office and burdening his staff after reading end time pastoral messages and prophecies of Fr. Michel Rodrique. The impression is that because of the panic stricken voices of the crying faithful, the bishop has now decided to disavow the messages and Fr. Rodrique.

In fact, Fr.Rodrique's messages are highly consistent with bishop approved messages of other Catholic seers around the world. For months Bishop Lemay has been neutral on the message content but in April objected that message content was read and approved by him. He has known Fr. Rodrique since 2011 so it is strange that he would not know about Fr. Rodrique's ministry. In 2015 Bishop Lemay wrote that Fr. Rodrique had "my support and complete trust".

Since 2011, all around the world end time messages from the Blessed Mother and bishop approved seers have taken a more potent, ominous, and intense tone as sin metastasizes into human reproduction, sexual alteration, toiling with the genes, pedophilia, and murder of children and many other serious sins. I do not think Fr. Rodrique deceived anyone and forwarded his messages to his bishop. Has Bishop Lemay been paying attention? Statements that that bishop approved the messages were dutifully retracted.

The bishop must have known that Fr. Rodrique was acting as an exorcist within the confines his own ministry and not the diocese in general, and that it was fitting for him to proceed in that capacity. His exorcisms were described and discussed on virtual retreats. The bishop was angered that his specific permission was never granted for exorcisms confined to Fr. Rodrique's ministry. Due to the advanced spiritual gifts of Fr. Rodrique, of which the bishop was certainly aware, it would have been far more benefic and pastoral to have offered the charism to perform exorcisms within the confines of his ministry, rather than the shocking, written, public rebuke. Every diocese needs more, not less exorcists.

Fr. Rodrique has left Bishop Lemay's diocese, or has been called by the Lord to leave, possibly to prevent more injury to his critical ministry, including its obliteration by naysayers and the spiritually blind. It has been a shocking year for the credibility and probity of Catholic bishops, and in my opinion, the majority of U.S. bishops sit in darkness. Bishop Lemay does nothing to change this impression. The parable of the wise and foolish virgins comes to mind.

Countdowntothekingdom.com website mentions the positive fruits, joys, hopes, reversal of life journeys, and peace, that Fr. Rodrique's ministry has brought to Catholic Christians. If Bishop Lemay objects to a frightened laity now, while there is time to accept Divine Mercy, one wonders what the world's bishops and priests are going to do after the Warning when millions are stampeding the confessional and living in pan-confusion, remorse, and for some, pan-terror? The consciences of the confessors, themselves, will be touched. Remember that, and keep yourself in a state of grace and also that the Blessed Mother has said that by the time of the warning for many it will be too late!

Thank you, Count Down To The Kingdom, for your PERSPICACIOUS, uplifting, inspiring work in providing a single place for believers to come to to discern and weigh all of the words of our mystics and seers. You are the most complete of the ministries preparing the faithful to receive our Savior. The official hierarchy of the Catholic Church continues to fail miserably in that regard.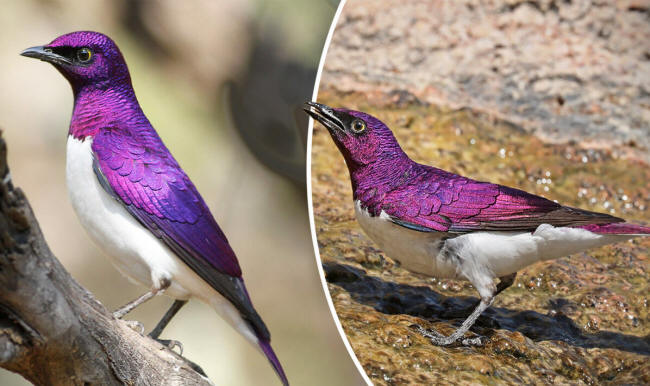 The Spectacular Male African 'Amethyst' Starling Looks Like a Living Gemstone With Wings
Past Headlines
One of the Earliest Snowstorms on Record to Blanket Front Range of Rockies With September Snow, Including Denver 65 degree temperature drop!
2 million acres burned by wildfires in California, surpassing all-time record set in 2018
Earthquake Strikes New Jersey, Shaking Reported Across State
More Dreams of Social Collapse, War, Frenzy, Bugging Out, Surveillance, and Persecution
---
Link Spirit-Digest carried last week wondered titled it divine intervention and wondered why prayer was not mentioned. Spirituality de-emphasized except that the captain decided to go an alternate route due to weather at the last minute: Distressed kayaker saved by Paulists on Lake George Story viewed from rescuers' side.
Here is the story from the spiritual side after the victim started praying A drowning man prayed for help. God sent a floating tiki bar filled with priests
---
Tabernacle stolen from Canadian Catholic cathedral
---
Some Illinois dioceses permit reception of Communion on tongue
---
Deployed Father and Son Get Promoted Together, Pin Each Other Their New US Army Ranks
---
Southern Africa fights against locust invasion as millions pushed to the brink
---
Serious snake Bite and Miles from Help
---
Turkey: Nine churches names Hagia Sophia have been converted to mosques
---
Black Georgia Man Who Stabbed Stranger Because He 'Felt the Need to Find a White Male to Kill,' Murders His White Cell Mate Following His Arrest
---
Church gathers in kayaks, canoes for creative worship on water amid pandemic
---
Minn. pastor says its OK for parents to give kids a 'good spanking' for discipline
---
Beloved pastor, father of 4 killed in crash while on his way to help Hurricane Laura victims
---
Black jogger detained for matching suspect description offered job with sheriff's office
---
Queensland passes law requiring priests to break confessional seal
---
Jesuits Get USD 1.7 Million From George Soros
---
Bombshell: Organization funding BLM, Antifa terrorism linked to Biden campaign
Satanic: BLM leaders call on the spirits of the dead starting with George Floyd
---
American Airlines faces backlash after allowing to employees wear Black Lives Matter pin
---
Venerable Augustus Tolton's life and faith offer a pathway to racial justice and healing...
---
Religious sisters missing after jihadist attack found safe and well
---
Mother Teresa believed these spiritual diseases are difficult to cure
St. Mother Teresa's Humility List: 15 Amazing Tips for Everyday Holiness
---
Pope embraces Argentine concubine Is this being judgmental? Yes. Remember Jesus associating with Samaritans, tax collectors, prostitutes. "I came to bring salvation, not judge". She needs to be given a chance to be influenced to change her ways. How an this happen if she is ostracized?
---
---