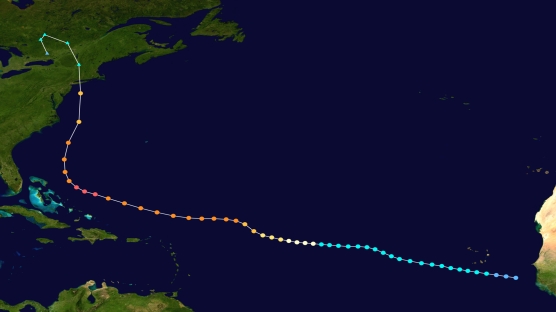 Path of the Catastrophic Great Hurricane of 1938. Had nothing to do with 'climate change'.
"In the morning newspapers, only the most diligent of Long island readers would have discovered that the storm threatening Florida the previous day, (as a Cat 5), had suddenly turned North into cooler waters which would weaken it. By sundown the storm would be known ever after as the "Long Island Express."
The forward speed of the storm was unprecedented and roared North paralleling the East Coast. Picked up by the jet stream, the hurricane accelerated to 70 miles per hour, which meant it had little time to weaken over the colder waters of the northern Atlantic. This forward motion added speed to the assaulting winds making them even more destructive. By noon the skies darkened, the winds howled and the sea roiled".
The Great 1938 Hurricane, A Once-In-A-Lifetime Storm
The Great New England Hurricane of 1938
Past Headlines
The Supernatural Power of Forgiveness
'I was sure that it was Mother Teresa who healed me'
This is the miracle that made her a saint.
An Atheist Has Vision of Heaven
The Visions That Got Saint Mother Teresa Started
She did not want to do it, but conversations with Jesus changed that. But then the Archbishop did not want to send her and resisted.
She ended up continually begging him for a life of sacrifice, hard work, and deprivation.
Pope Francis: Cardinal Burke, faithful worried about the Synod are not defending 'true Catholic doctrine'
Biblical Hebrew Is The Mother Of All Languages: Before And After The Tower of Babel
"No wonder Hebrew was originally a required course at universities during the founding days of the United States. Hebrew was considered, in those days, the Mother of All Languages"
"Ring of Fire" Solar Eclipse Will be Visible to People in the U.S. For the First Time in History
---
The Cure of Ars said, "All the good works in the world are not equal to the Holy Sacrifice of the Mass because they are the works of men; but the Mass is the work of God. Martyrdom is nothing in comparison for it is but the sacrifice of man to God; but the Mass is the sacrifice of God for man."
Eternal God and Comforter, invigorate my studies and be a lamp to my path so that I may establish myself and others in thy holy faith. JDG
"May the light of the Holy Spirit come upon us all and reveal Him who is the Truth."