'Extremely dangerous' Hurricane Lee sins up to up to Category 5 strength, with 160-mph winds
Home insurers cut natural disasters from policies
Arctic Ice Is About To Melt Faster Than Ever But Humans Aren't To Blame
---
Scientists have discovered a new type of brain cell that promises to shake up the field of neuroscience
---
Ethic time bomb as scientists grow whole model of human embryo, without sperm or egg
Human looking embyo created to study primordial tissue assembly. Instead of a sperm and egg, the starting material was naive stem cells which were reprogrammed to gain the potential to become any type of tissue in the body.
---
Cleveland man arrested after shooting and killing his pregnant sister, her unborn child, and her husband on Labor Day
Cupich expected to testify in trial over Orland Park fatal crash involving drunk priest
New York Priest Ordained 4 Years Ago Arrested on Child Sex-Abuse Charges
Michigan priest arrested for stealing $800k from elderly priests
---
Federal judge orders buoys in Rio Grande moved
---
Prayers Answered As Couple Who Struggled to Conceive Welcome Extremely Rare Quintuplets Not identical but naturally conceived.
8-Day-Old Conjoined Twins Are Youngest Ever To Be Separated Would have died without the surgery within hours
---
6 have died so far from Vibrio vulnificus. Over 30 infected. It's not enough to cover the wound with a waterproof bandage and that people with open wounds should avoid the water completely. CDC issues advisory.
CDC issues alert on rare "flesh-eating" bacteria in coastal waters
---
Investigatorand Author Says People Are Mysteriously Missing in National Parks
---
U.S. government investing $22 million into developing surveillance clothing that can record video and audio
---
Charged with a 'Hate Crime' Charge for Putting LGBT Flags On Public On Ground. A 25-year-old man has been charged with criminal mischief and a 'hate crime' after he removed and damaged a number of LGBTQI+ pride flags placed on a fence in New York City's West Village neighborhood in June.
Wacko interpretation: Fr. James Martin says Christ raising Lazarus from dead is 'invitation' for 'LGBTQ people' to 'come out'
---
---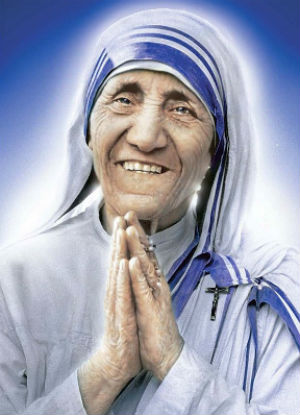 Past Headlines
'I was sure that it was Mother Teresa who healed me'
This is the miracle that made her a saint.
The Visions That Got Saint Mother Teresa Started
She did not want to do it, but conversations with Jesus changed that. But then the Archbishop did not want to send her and resisted.
She ended up continually begging him for a life of sacrifice, hard work, and deprivation.
Pope Francis: Cardinal Burke, faithful worried about the Synod are not defending 'true Catholic doctrine'
Biblical Hebrew Is The Mother Of All Languages: Before And After The Tower of Babel
"No wonder Hebrew was originally a required course at universities during the founding days of the United States. Hebrew was considered, in those days, the Mother of All Languages"
"Ring of Fire" Solar Eclipse Will be Visible to People in the U.S. For the First Time in History
---
The Cure of Ars said, "All the good works in the world are not equal to the Holy Sacrifice of the Mass because they are the works of men; but the Mass is the work of God. Martyrdom is nothing in comparison for it is but the sacrifice of man to God; but the Mass is the sacrifice of God for man."
Eternal God and Comforter, invigorate my studies and be a lamp to my path so that I may establish myself and others in thy holy faith. JDG
"May the light of the Holy Spirit come upon us all and reveal Him who is the Truth."
The Early Christian Martyrs were RIGID in their Faith Otherwise it never could have survived to handed down to us.
The Catholic Church defended human rights during Chile's dictatorship. An archive tells the story
---
Archbishop defends giving Holy Communion to Muslim leader, citing Pope Francis and Vatican II
---
Bishop Strickland's powerful defense of Church teaching is crucial in the fight for truth
---
Nishimura, discovered last month is getting brighter by the day and will be a rare green comet that is naked eye visible It may burn up in the Sun but it will get closest to Earth around Sept 11-12. (Think 9/11= sign) .
NASA tracks 5 'potentially hazardous' asteroids that will fly by Earth within days
---
Holy Spirit working this crowd
Satanic Pop Star Doja Cat's New Song 'Demons' BACKFIRES, Turns Thousands to GOD 'Satanic' pop star Doja Cat's new song "Demons" suffered an enormous backlash among young listeners, turning many back to God due to its overtly perverse and demonic lyrics and imagery.
---
11-year-old boy to stand trial for mother's murder, motive suspected to be VR headset. The court has ordered his identity not be revealed.
Couple kidnapped from home, 5 kids left behind
---
South African conservation NGO to release 2,000 rhinos into the wild. The "rewilding" will take place over the next 10 years.
---
Communist persecution of the opposition: DOJ Prosecutors Seek 120 Days in Prison for Owen Shroyer for Speaking Out Against Stolen 2020 Election – A Speech Crime
Harvard ranked worst college in the nation for free speech
---
Drunk Drivers Causing Parental Deaths Now Liable For Child Support In Texas Drunk drivers who are convicted of intoxication manslaughter will now need to pay child support if they kill a parent or guardian of a child in a car crash, according to a new Texas law that went into effect on Sept. 1.
---
North Carolina hospitals have sued thousands of their patients, a new report finds North Carolina hospitals — led by the state's largest public medical system — have sued thousands of their patients since 2017, according to a new analysis that sheds additional light on the aggressive tactics U.S. hospitals routinely use to collect from people who fall behind on their bills.
---
A climate scientist says that he deliberately omitted the "full truth" about climate change from a paper he recently authored in order to increase its chances of publication in a prestigious journal
Cervantes: Like many other weather experts, award winning journalist Alex Newman noted: "The human-induced global warming narrative is merely a pretext for unelected globalists to control every aspect of your life under the guise of saving the planet.

"The notion that CO2 is pollution is absolutely preposterous…The idea that it's going to destroy the planet or change the temperature of the Earth is totally ludicrous. But from the totalitarian perspective, if you can convince people that CO2 is pollution, there's no human activity that doesn't result in CO2 emissions, including living". Link (Embedded in a dire message from Blessed Mother).
---
---