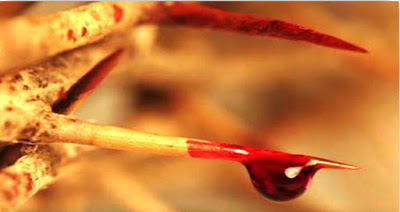 Three Relics of Christ's Passion Housed in Spain
Past Headlines
The Three Period Of Darkness Is Confirmed By Many Historians
The hands were likely nailed palms down (against the cross beam) as shown by blood flows over the top of the hands and outside of the arms. Thus, the arm musculature was twisted for hours while bearing a terrible weight, leaving not one spot on the sacred body screaming in pain, as if that were possible
Good Friday–Triumph Over Suffering
An Easter Miracle: The Two Angels Who Brought Her Son Back
The Crucifixion prophesied in Genesis Chapters 5
The Genealogy of Noah in Genesis Chapter 5 (from "The Bible: An Extraterrestrial Message" by Chuck Missler, khouse.org). The ancestors of Noah are recorded in Genesis 5. There are a total of 10 names, each with a specific Hebrew meaning. The English translations for the Hebrew words are recorded above from top to bottom.
Hebrew English Meaning Adam (is) man. Seth Appointed Enosh Mortal Caanan Sorrow (but) Mahalalel The Blessed God Jared Shall Come Down Enoch teaching (that) Methuselah His death shall bring Lamech The despairing Noah Comfort
"Man (is) appointed mortal sorrow, (but) the Blessed God shall come down, teaching that His death shall bring the despairing comfort."
This is the Gospel of Jesus Christ, rendered in the names of the ancestors of Noah! Nobody can choose the names of their parents or grandparents! This is one of the many proofs of the supernatural authority of the Bible.
The Crown Of Thorns, And The Mocking Of Jesus
Barabbas was the "scapegoat" pardoned and released into the wilds while Jesus was the sin offering used to sprinkle the Mercy Seat once a year.
Jesus actually did sprinkle the Mercy Seat with his blood and a New Covenant was sealed with it.
Crucifixion – The Physical Suffering of Jesus
The timeline for 6 hours on the cross does not fit. It is 3 hours as discerned by mystics. He has to be in the grave by 6 p.m. and dead when the shofar is sounded at 3 p.m. that the sacrifice of all the Pascal lambs has been completed. (Killing the Pascal lambs started at noon when the cross was elevated). More likely, the intense suffering with the scourging started at 9 a.m. Note: Passover was a feast of THANKSGIVING and remembrance, not a feast wherein lambs were offered to forgive sins. Jesus' death changed that and sealed a new covenant.
Just a few weeks before Rachel's murder, the group of friends were playing with a Ouija board at a slumber party. Sheri remembers the question was, "who will be the first to die?" The arrow spelled out "Rachel." Did the demon she summon follow her to her death a few minutes later?
The spiritual dangers of playing with a Ouija board
Almighty, holy and eternal God and Comforter, invigorate my studies and be a lamp to my path so that I may establish myself and others in thy holy faith. JDG
Seal The Doorposts!

Thx stjoe4u


Special grace granted by Jesus to protect our homes

Man says, 'Show me, and I'll trust you.' God says, 'Trust me and I'll show you.'
Jeanette Zahler, Guidepost reader