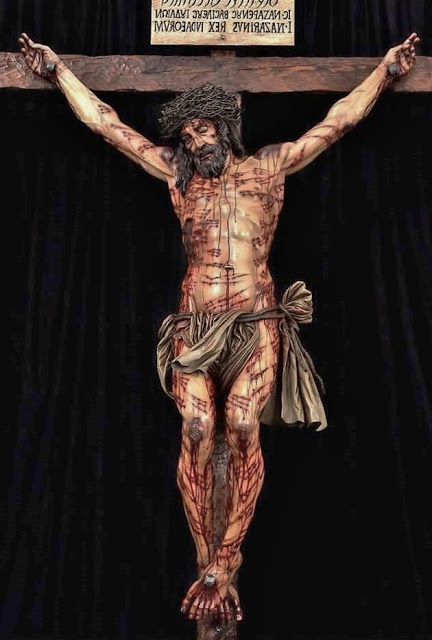 Past Headlines
Understanding the Vatican crusade against tradition Pope Francis is acting to "unify the Church—to press on ever more in the constant search for ecclesial communion"—so he is taking actions that have resulted in observant thousands of Catholics frustrated, angry, and dispirited. He wants to "reach out to the marginalized," so he needs to marginalize traditionalist Catholics.
Don't Call on Demons You Don't Believe In People eager for transcendence are opening doors without considering what might walk through
Seriously wounded pastor dies and has amazing experience with Jesus!
The Rosary and the Devil's Defeat
Official German Catholic news outlet publishes piece calling pro-life prayer rallies 'un-Christian'
German diocese promoted Valentine's Day blessings in diocese with photo of homosexual couple kissing
A better way forward: A response to Cardinal Robert McElroy
Pope Benedict's Posthumous Book a Bombshell on the Catholic Church and Francis Papacy
---
The Cure of Ars said, "All the good works in the world are not equal to the Holy Sacrifice of the Mass because they are the works of men; but the Mass is the work of God. Martyrdom is nothing in comparison for it is but the sacrifice of man to God; but the Mass is the sacrifice of God for man."
Eternal God and Comforter, invigorate my studies and be a lamp to my path so that I may establish myself and others in thy holy faith. JDG
Linda Kasabian, a Manson family cult member dies. Gave testimony critical for conviction. Never participated in the killing and never forgave herself for association with Manson.
---
Bishop says priests would rather go to jail if state requires violation of confessional seal
Catholic priest Joseph "Father Jack" Baker sentenced for child rape
---
Two Honduran Nationals Cited After Killing American Bald Eagle in Nebraska and Planning to Eat It
---
Transgender hormones linked to 'substantially' higher risk of heart attack, stroke: study A study released this month shows that the use of cross-sex hormones among gender-confused individuals leads to "substantially increased risk" of serious cardiac issues, including heart attacks and strokes. The research, presented at a conference of the American College of Cardiology.
---
Evil: Paris Hilton says she has frozen 20 boys via IVF as she waits for a girl The process begat at least 20 human lives – all of them male according to Hilton – one of whom was born via surrogate last month. Despite having gone through the process seven times and having many unborn children in a frozen state, Hilton said she just went through the process again …
---
'I Couldn't Be A Christian And A Teacher': School Teacher Fired For Resisting Trans Agenda A California high school gym teacher has been fired from the Jurupa Unified School district because of her religious beliefs on gender identity.
---
Birth Rates Plunge in Heavily Vaccinated Countries I have been looking for real data regarding birth rates, and at this point, they are been deliberately been withheld. so far we have a quarter drop in birth rates with no effort to determine yet what is going on.
---
Courageous priest to Pope Francis: 'Humbly admit' you're 'wrong' and that 'Christian Tradition is right'
---
Apostolic nuncio to Germany forbids bishops from creating permanent Synodal Councils
---
Pope Francis again cuts perks for cardinals, Vatican managers
---
Temple in Indian state of Kerala replaces elephant with robot for worship
Satanic Video Game Allows Players to "Activate Blood Altars" and 'Sacrifice Friends to Demons' Satanic subliminal messages in video games are no longer hidden. They are out in the open. Video game news site Push Square reported a new game called Deceit 2 will allow players to sacrifice their friends to demons and activate blood alters in order to "tear down the veil of reality".
---
Nearly 50% of murders in the US are going unsolved, report finds Directly related to how human life is devalued
Downright Demonic': Canadian Gov't Calls Lawmakers To Legalize Euthanasia For Children Without Parental Consent
Doctor endorses idea of suicide through organ donation. Bioethics paper suggests limiting donors to the deceased is 'paternalistic' Not so different from Chinese organ transplant business.
---