Two Detroit police officers found dead in apparent murder-suicide; infant also found in the home
---
Ukrainian refugee learns violence at San Fran public school is so bad that she wants to return to war-torn country
---
Potential massacre averted as armed citizen takes down El Paso mall shooter
---
Editorial: Taking his cue from Cardinal McElroy—and ignoring the strong cautions from Archbishop Aquila and Archbishop Naumann, among others—Chicago's Cardinal Blase Cupich has written a column in his archdiocesan newspaper calling for full inclusion of active homosexuals in the life of the Church.
"Cardinal Cupich is astonishing because he so blatantly misrepresents the thoughts of those who do support the perennial Catholic tradition—in particular, the late Pope Benedict XVI". Link
---
89 y.o. Dianne Feinstein announces, and promptly forgets, that she will retire in 2024
---
Our Reality. A Reflection from Luz de María and Messages, February 10th, 2023 Important read!
---
Cervantes: Our Blessed Mother: "Powers that seem continents away will be very close" The messages, are significant for their comforting the faithful who are braced for the trials ahead, as they are assured of assistance from Heaven's denizens. The messages also stress the importance of realizing that humans, all of us, were created for Heaven and reaching it depends on our fidelity to God on earth.
---
The day before devastating Turkey EQ, the U.S. shot down a Chinese balloon near Myrtle Beach, S.C.. Myrtle Beach was where the total solar eclipse of 2017 terminated. The eclipse on the Fatima Anniversary over the American heartland was a stark warning. Myrtle Beach brings to mind Zechariah 1 and the rider on a red horse (war) amidst the myrtle trees.
A long (7 minute) eclipse is thought to have immediately preceded Jonah's visit to Nineveh in modern day Iraq. This likely softened up those godless pagans, unlike America given 10 explicit harbingers, ( described by Jonathan Cahn), in addition to a long eclipse. Instead of conversion (unlike Nineveh), immorality has morphed into castrating little boys and removing the breast tissues of little girls. America, you are begging for judgment.
"During the night I had a vision, and there before me was a man mounted on a red horse. He was standing among the myrtle trees in a ravine". (Zech. 1:8)
Note that the rider on a red horse in Revelation 6 represents global war ( All of this is happening right as Russia is about to re-invade Ukraine with a massive 500,000-man army, very possibly triggering World War III in the process.
Some insights (Myrtle Beach Connection and Zachariah) taken from this Protestant website
---
N. Korea warns of turning Pacific into 'firing range'

What This Rabbi Predicted 22 Years Ago About N. Korea's Role In the End-Time Will Shock You
---
---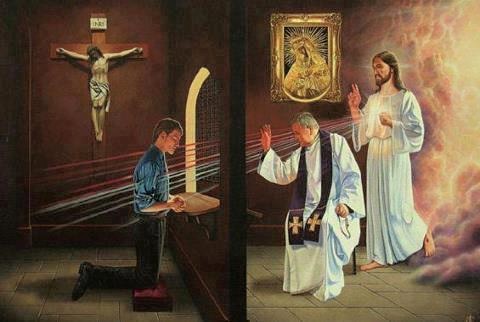 Past Headlines
After missionary plane crashed in Bering Sea off Alaska, God brought rescue with incredible divine timing
The Divine Power Behind Shared Death Experiences
Chris DeFlorio, a former officer with the New York Police Department, is using his investigative skills to help people who believe they're battling the demonic
"A Person in White Fed Me": Boy Stuck Under Rubble Miraculously Survives Earthquake in Turkey
Archbishop of Kansas City responds to McElroy, "Radical inclusion cannot supercede Catholic doctrine"
Ten Ways Mother Mary is a Mother to Us
For Valentine's 7 Stories of Unexpected True Love
---
The Cure of Ars said, "All the good works in the world are not equal to the Holy Sacrifice of the Mass because they are the works of men; but the Mass is the work of God. Martyrdom is nothing in comparison for it is but the sacrifice of man to God; but the Mass is the sacrifice of God for man."
Eternal God and Comforter, invigorate my studies and be a lamp to my path so that I may establish myself and others in thy holy faith. JDG
Suspect arrested in death of Los Angeles auxiliary bishop Husband of housekeeper. Linked to the crime after finding surveillance video showing SUV in the driveway of O'Connell's home at the time of the killing.
---
Abp. Viganò: FBI targeting Catholics is a 'logical consequence' of Pope Francis persecuting the faithful
---
Massive winter storm to bring heavy snow, rain to these states
---
Bill Gates-funded study admits naturally acquired COVID immunity at least equal to vaccine immunity
---
What Happens When Regular Porn Watchers Abstain for a Week? Ans: No effect. No withdrawal symptoms noted.
---
Doctor's post celebrating abortion is so ghoulish that even pro-choice people turn against her to question their stance
Euthanasia, Assisted Suicide, and Murder: The Diabolical Trinity!
Exorcising a Former Abortion Clinic: An Eye-Opening True Story
---
Solar "crown" leaves scientists puzzled. Jewish tradition may help Before the great and terrible day of Hashem comes," I will set portents in the sky and on earth": Scientists recorded an unprecedented and inexplicable solar phenomenon that had a solar flare creating a 'crown' around the sun's northern pole. This image appears to correspond to a Midrash description of how the sun looked like when it was created and how it will appear in the end of days. Scientists said they have never witnessed anything like this and they are unsure what caused it.
---
Students at Christian college have been praying, worshiping around the clock for over a week. Visitors are arriving from everywhere — and 'revival' seems to be spreading
---
Thousands of young Spanish Catholics take to the streets in Madrid for rosary procession
---
Turkish rescue crews have managed to pull two people alive from the rubble 11 days after a devastating earthquake in an operation one family member is describing as a "true miracle."
---
Why did the Buffalo Diocese refuse to sell St. Ann's to a group of Catholics who wanted to preserve it as a Catholic Church and instead chose a shadowy Islamic group?
---
Madness: Is Your Baby 'Nonbinary'? Social Workers in Pennsylvania Are Now Required To Say Pennsylvania social workers must now determine if newborn children identify as "nonbinary," according to government forms reviewed by the Washington Free Beacon
---
'Don't Judge' — How to Respond When Your Relativistic Friend Quotes Jesus
---
---